Nationally Certified Firearms Training
Proper Firearms Training Could Save Your, or Someone Else's Life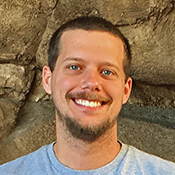 Aaron Stemen
NRA Certified Instructor
Range Safety Officer
Refuse to Be a Victim® Instructor
It's Aaron here! I want to personally welcome you to Trigger Pressers!
I'm a full time law enforcement officer with a medium sized agency in northern Florida. I've been a firearms instructor since 2011. I'm certified by the NRA as a Pistol Instructor, Range Safety Officer, and Refuse to Be a Victim® Instructor.
I am a strong proponent of The Second Amendment, and I thoroughly enjoy teaching my students how to safely own and operate firearms.
The Difference Is In the Quality
Take a quick look around at various "concealed weapons classes" offered at the gun range or pawn shop. What do you see?
Chances are you see a good number of 3 or 4 hour classes that funnel as many students through, as quickly as possible.
You have a very important decision to make. Do you merely want a sheet of paper so you can get your concealed weapon and firearm permit, or do you truly want to learn how to safely own and operate firearms?
We can't make that decision for you, but if you are serious about this, we trust you'll make the right decision.
Contact us today to schedule a class.