We created this guide just for you. Here we give you all the information you'll ever need to know about the Florida CCW Permit and the process to get yours.
While we have made every effort to ensure the accuracy of this information it should not be relied upon as legal advice or when making important life decisions.
If we've left something out, let us know so we can be sure to add it.
Let's get started!
---
What Is It?
Section 790.01, Florida Statutes (F.S.) makes carrying a concealed firearm without a license a third degree felony. Carrying a concealed weapon, other than a firearm, is a first degree misdemeanor.
A concealed weapon permit (also known as a concealed weapon license) allows you to lawfully carry a weapon, including a firearm, as long as it remains concealed from the "ordinary sight of another person."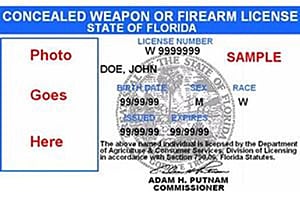 The Florida Department of Agriculture and Consumer Services is tasked with issuing licenses in accordance with state statute. There are certain eligibility and training requirements that you must meet in order to be issued a permit, as well as restrictions on where you're allowed to carry.
---
Eligibility Requirements
The minimum eligibility requirements to be issued a concealed weapon permit are:
You must be 21 years of age or older. Exception: Military servicemembers, and veterans who were discharged honorably, are eligible regardless of age.
You must be able to demonstrate competency with a firearm.
You must currently reside in the United States unless serving overseas in the military. If you are serving overseas you may submit a copy of your deployment documentation with your application.
You must be a United States citizen or a lawful permanent resident alien. If you are a Resident Alien you must provide a valid Permanent Resident Alien card ("green card").
Possible Reasons for Disqualification
While there are only a handful of explicit eligibility requirements you must meet, the things that may disqualify you from receiving a permit are far greater in number.
Here is a list of some of the things that will prevent the state from issuing you a concealed weapon permit:
The physical inability to safely handle a firearm
A felony conviction (unless civil and firearm rights have been restored)
Having adjudication withheld or sentence suspended on a felony, or a misdemeanor crime of violence, unless it has been at least three years since the termination of probation and the fulfillment of all conditions set by the court
A conviction for a misdemeanor crime of violence within the last three years
A conviction for violation of controlled substance laws, or multiple arrests for such offenses
A record of drug or alcohol abuse
Two or more DUI convictions within the last three years
Being committed to a mental institution or adjudged incompetent or mentally defective
Failing to provide proof of proficiency with a firearm
Having been issued a domestic violence injunction or an injunction against repeat violence that is currently in force
Renouncement of U.S. citizenship
A dishonorable discharge from the armed forces
Being a fugitive from justice
By now you may be thinking it's difficult to get a permit. Despite all of the above disqualifiers (and possibly even more), denials are actually quite rare.
For the most recent full year of applications (July 01, 2019 – June 30, 2020), the State of Florida received a total of 318,811 applications (new and renewals). A mere 5,039 were denied due to ineligibility. That's approximately 1.5 percent.
---
Training Requirements
Section 790.06(2)(h), F.S. outlines what training the State of Florida accepts.
There are seven possible ways you can satisfy the training requirement:
Complete any hunter education or hunter safety course approved by the Fish and Wildlife Conservation Commission
Complete any National Rifle Association firearms safety or training course
Complete any firearms safety or training course/class conducted by instructors certified by the National Rifle Association, Criminal Justice Standards and Training Commission, or the Department of Agriculture and Consumer Services
Complete any law enforcement firearms safety or training course/class
Present evidence of equivalent experience with a firearm through participation in organized shooting competition or military service
Become licensed to carry a firearm in this state, or a county or municipality of this state, unless such license has been revoked for cause
Complete any firearms training or safety course/class conducted by a state-certified or National Rifle Association certified firearms instructor
Once you have completed your class, you must submit a copy of your certificate, or an affidavit from your instructor, along with your application. Failure to do so will result in your application being denied for missing documentation.
NOTE: You are required to demonstrate safe handling and live-fire discharge of a firearm in the presence of the instructor. This means online classes DO NOT meet the training requirements.
We guarantee our firearms classes meet and exceed the State's requirements. In fact, we are so sure that we offer a 100% guarantee.
If you attend and complete one of our in-person firearms classes, and the State of Florida denies your application due to unacceptable training, we will refund 100% of your class tuition.
---
How to Apply
There are three different ways you can apply for your permit.
You can apply online, by mail, or in person. We will cover all three briefly, and then explain why we believe applying in person is the best option.
Apply Online
This is the newest of the three methods, and until recently wasn't even an option. The Department of Agriculture now has an online application system. You can create an account, work on your application, and even return to complete it later if something comes up preventing you from completing it in one sitting.
However, even if you submit the application itself online, you're still going to have to have your fingerprints taken in person by a law enforcement agency or Regional Office.
If you don't have a passport style photograph already, you will also have to go somewhere in person to have one taken. The photo cannot be any older than 30 days.
So even though it's an online application, it is impossible to complete the entire process 100% online.
Apply by Mail
The same is true for applying by mail. We don't recommend using this method since it's certainly going to be the slowest.
But, if for some reason, you have your heart stuck on applying by mail, you can download an application from the Department of Agriculture's website, fill it out, and then mail it in. Be sure to follow the application instructions completely.
Just remember, you will still have to go in person to have your fingerprints taken.
Apply in Person
We saved the best (and in our opinion the easiest) for last.
Your best option is to make an appointment at one of the eight Regional Offices, or at a participating county Tax Collector's Office. You can find the closest Concealed Weapon License service location to you by using this interactive map.
The biggest advantage of applying in person is it is literally a one-stop-shop. You will complete your application, have your fingerprints taken, and have your photograph taken all at the same time.
If you have any questions, or run into complications, there's somebody right there to help you along the way.
You need to bring the following documents with you to the service center:
A photo ID (driver's license or state-issued ID card)
A copy of your training documentation
Your payment (discussed below)
Any name change documentation (marriage certificate, divorce decree, etc.)
If you've ever been arrested, you should bring court documentation indicating the disposition of the charge(s)
If you were born outside the United States you will need to bring documentation confirming your eligibility as a permanent legal resident or as a naturalized citizen
Applying at a Regional Office
The Department of Agriculture has Regional Offices in the following cities:
Fort Walton Beach
Jacksonville
Doral
North Port
Orlando
Tallahassee
Tampa
West Palm Beach
If you do not live close to a Regional Office, you can visit a participating Tax Collector's Office.
Applying at a Tax Collector's Office
Every county is required to have at least one Tax Collector's Office location that processes Concealed Weapon License applications. Not every location processes applications, however, so make sure you check the list linked above to find one near you that does.
The only disadvantage to applying at a Tax Collector's Office is they are allowed to add on an additional "convenience fee" of up to $22. But, if you don't live near a Regional Office, it may be $22 well spent when you consider the time and gas it would take you to drive.
What's It Cost?
The current fee to apply for a new concealed weapon license is $97. The fee includes a fingerprinting fee of $42 and an initial license fee of $55.
If you are an active Florida law enforcement officer the $42 fingerprint fee is waived. And if you're an active judge, there's no fee at all.
NOTE: The Regional Offices cannot accept cash. You must pay by personal check, cashier's check, money order, or credit/debit card.
Also remember, the Tax Collector's Office may charge an additional "convenience fee" of up to $22.
How Long Does It Take?
The most common question after submitting your application is...how long does it take to get the actual permit?
The actual processing time for your application can vary based on a multitude of factors. But, in general, the typical processing time is around 50 days. However, the Department of Agriculture has as long as 90 days by state statute. It doesn't usually take 90 days, just know it's possible.
---
Renewing Your Permit
Roughly 3 months before your current license expires, you will receive a renewal application and instructions in the mail.
If your permit has already expired, you can still renew it if it's expired less than 6 months. However, there is a $15 late fee.
You cannot carry a concealed weapon or firearm if your license has expired.
You have the same three options to renew your license as you did when obtaining the original: online, by mail, or in person.
Renew Online
You can renew your license online by submitting the online renewal application.
In order to renew online you will need the following:
Your "Renewal Notice for Concealed Weapon or Firearm License" that you received in the mail
A digital, passport-style photo taken within the last 30 days
A credit card, debit card, or electronic check for payment
If your residential address is out-of-state, you must have your fingerprints taken again at a law enforcement office. And if your name has changed, you must upload documentation supporting the name change.
Renew by Mail
Again, we do not recommend renewing by mail, but if you decide you want to it's certainly an option you have.
All you've got to do is complete the renewal application that was mailed to you and return it, along with the renewal fee and a passport-style photograph taken within the last 30 days.
Renew in Person
Renewing in person is probably going to be the easiest method again. The biggest advantage to renewing in person is you will receive your new permit immediately.
To renew your license, bring the following documents with you to a Regional Office or participating Tax Collector's Office (see above for locations):
A photo ID (driver's license or state-issued ID card)
Your unsigned renewal application that you received in the mail
Your payment (discussed below)
If your name has changed, you must upload documentation supporting the name change.
What's It Cost?
The renewal fee is significantly less than the original fee. A renewal license costs just $45 and is good for another 7 years.
However, remember there is a $15 late fee if your license has expired, and Tax Collectors may again access a "convenience fee" if you renew at their office. The good news is the "convenience fee" for renewals is limited to just $12 instead of the $22 for original licenses.
The Regional Offices cannot accept cash. You must pay by personal check, cashier's check, money order, or credit/debit card.
How Long Does It Take?
If you renew in person, your application will be processed while you wait. Plan on it taking about an hour. If you renew online or by mail, it will take approximately two weeks for you to receive your new permit.
---
Obtaining a Replacement
If your concealed weapon permit has been lost, stolen, or destroyed, you can obtain a replacement for $15. Unfortunately, requests for replacement licenses cannot be submitted online.
You must mail your request to the Department of Agriculture at the following address:
Division of Licensing
P.O. Box 6387
Tallahassee, FL 32314-6387
You must send in a written, notarized statement explaining that your license was lost, stolen, or destroyed, along with the $15 replacement fee (paid by check or money order made payable to the Division of Licensing).
---
Updating Your Address
You are required to update your address with the Division of Licensing within 30 days of a change. You don't need to order a replacement license since your address isn't printed on it anyway.
Submitting a change of address is as easy as filling out the online change of address form.
---
State Reciprocity
As of this writing, 36 states (shown in blue) accept Florida's CCW permit in one shape or fashion.
However, it's important to understand some states have more restrictive laws than Florida with regards to where you can and cannot carry, as well as what you can and cannot carry.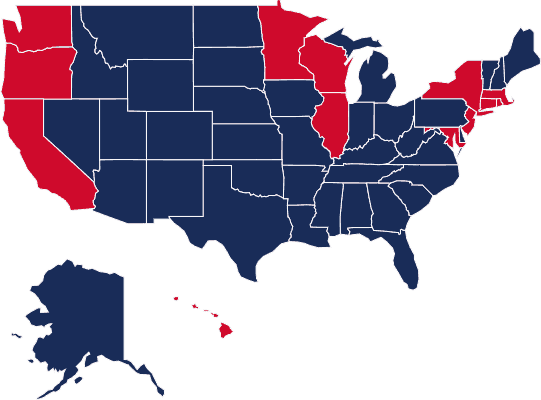 The Division of Licensing maintains an up-to-date list of states that recognize Florida's concealed weapon license.
Gun laws vary from state to state, so it's important that you do your research before carrying a firearm outside the State of Florida.
---
Carry Restrictions
As much as we'd like it to, you CCW permit doesn't give you blanket authority to carry anywhere and everywhere you want to.
Section 790.06(12), F.S. details a complete list of places you cannot carry a weapon or firearm, even with a permit. Here are the highlights:
Any place of nuisance as defined in Section 823.05, F.S.
Any police, sheriff or highway patrol station
Any detention facility, prison or jail
Any courthouse
Any courtroom*
Any polling place
Any meeting of the governing body of a county, public school district, municipality or special district
Any meeting of the Legislature or a legislative committee
Any school, college or professional athletic event not related to firearms
Any school administration building
Any portion of an establishment licensed to dispense alcoholic beverages for consumption*
Any elementary or secondary school facility
Any area technical center
Any college or university facility*
Inside the passenger terminal and sterile area of any airport*
Any place where the carrying of firearms is prohibited by federal law
The places marked by an asterisk (*) may have exceptions or additional restrictions. You should check the Florida Statutes or consult with your attorney for specific details. This article is not legal advice and must not be relied upon as such.
---